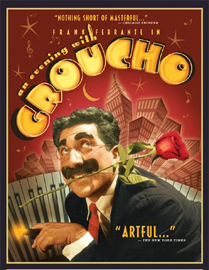 Frank Ferrante in
An Evening with Groucho
ONE NIGHT ONLY!
MONDAY, FEBRUARY 27 · 8:00 PM
Brilliant!

— The Today Show
Award-winning actor and director Frank Ferrante recreates his PBS, New York and London acclaimed portrayal of legendary comedian Groucho Marx in this fast-paced 90 minutes of hilarity. The two-act comedy consists of the best Groucho one-liners, anecdotes and songs including "Hooray for Captain Spalding," and "Lydia, the Tattooed Lady." The audience literally becomes part of the show as Ferrante ad-libs his way throughout the performance in grand Groucho style. Accompanied by his onstage pianist, Ferrante portrays the young Groucho of stage and film and reacquaints us with the likes of brothers Harpo, Chico, Zeppo and Gummo, Charlie Chaplin, W.C. Fields, Marx foil, Margaret Dumont and MGM's Louis B. Mayer. A show perfect for all ages!
Nobody does Groucho better than Frank Ferrante!

— Arthur Marx, Groucho's son and co-author of Groucho: A Life in Revue starring Frank Ferrante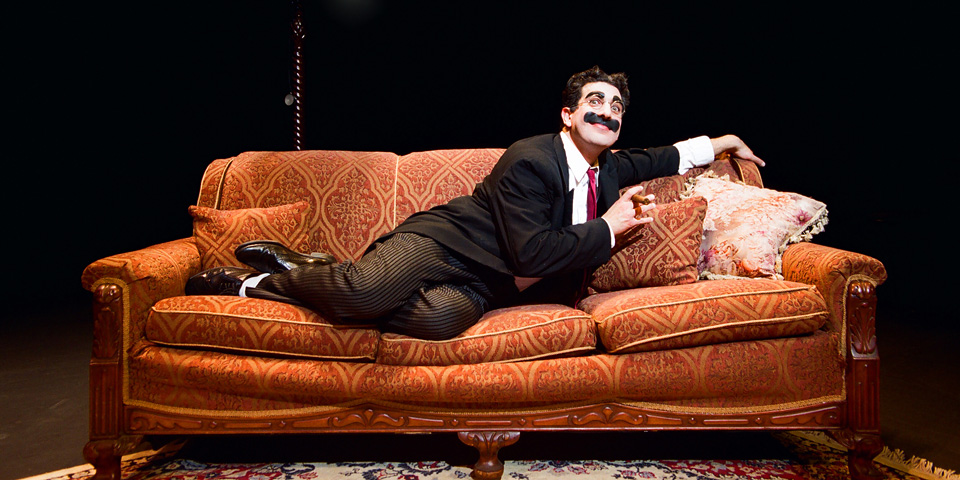 Photo courtesy of Frank Ferrante Productions.
Frank doesn't just do Groucho...he is Groucho!

— Miriam Marx Allen, Groucho's daughter
FRANK FERRANTE
Collaborating with the Marx family for two decades, Frank Ferrante was cast off-Broadway in Groucho: A Life in Revue written by Groucho's son Arthur. Performing this role more than 2,000 times, he earned a New York Theatre World Award and a nomination for London's most distinguished honor – the Laurence Olivier Award. Mr. Ferrante is an actor and director of film, television and stage, and directed the premiere of the Pulitzer finalist Old Wicked Songs.
See this man. He is comic genius!

— The Seattle Weekly
TICKETS · $20-$35
VIP TICKETS · $75 includes an exclusive "Meet and Greet" reception after the show!