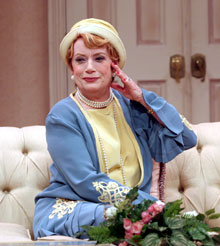 Nancy Dussault in
The Constant Wife
. Photo by Mark Garvin.
Gift Certificates
GIFT GIVING JUST GOT EASIER!
A gift certificate from Walnut Street Theatre is the gift that's always the right size, always the right color and always appreciated by family, friends and business associates. Order yours today, and you can treat someone special to a magical live performance.
Tix for Two
Each Tix-for-Two is good for two tickets to any Mainstage or Independence Studio on 3 performance and is valid through July 15, 2018, which means the recipient can choose the show, the date and performance time. That's the kind of gift everybody likes to receive!
You get two tickets to any Walnut Street Theatre show for $150*. You can save as much as 22% when you purchase today. It's easy. Purchase at the theatre, call 215.574.3550 or 800.982.2787 or order online.
Walnut Street Theatre Gift Card
You choose the amount. They choose the gift. They can use the gift card to purchase individual tickets, subscriptions, Theatre School classes, concessions and gift shop purchases. They may be redeemed in person or by phone. Gift Cards can be purchased at the theatre, by calling 215-574-3550 or order online.
*excludes donor VIP seat locations