Theatre FAQs
The list below is arranged in approximate order of your Walnut Street Theatre experience, starting with purchasing your tickets and walking you through your visit to the theatre. Please scroll through the list to search for your particular question.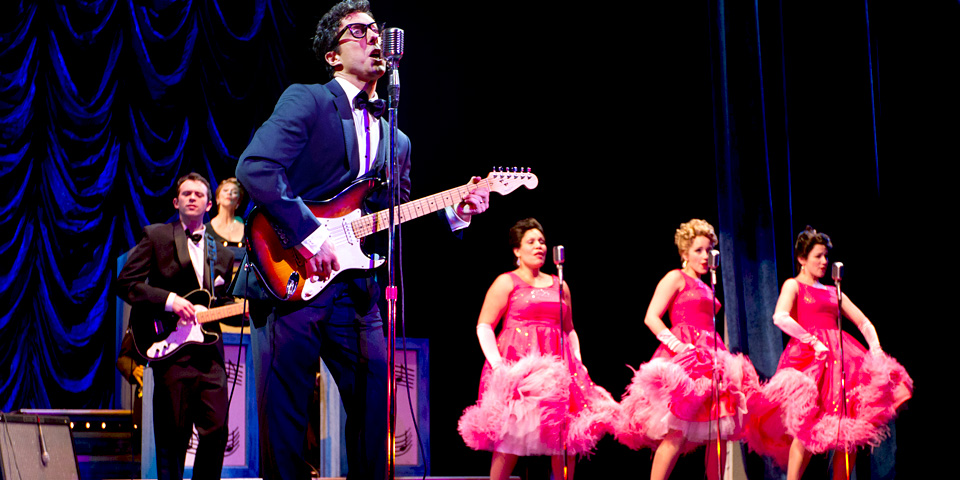 Buddy - The Buddy Holly Story, (2012), Christopher Sutton and Ensemble, Photo by Mark Garvin
WHAT ARE PREMIUM SEATS?
A small number of seats in prime locations are available for select Mainstage and Independence Studio on 3 performances. When you purchase these seats, a portion of your ticket price is a donation to Walnut Street Theatre. Your donation gives you access to prime seat locations and your contribution helps support the art on the stage and Walnut Street Theatre's highly successful education and outreach programs.
Learn More:
WHAT TIME SHOULD I ARRIVE AT THE THEATRE?
The Mainstage lobby will open one-hour prior to performance time. You are welcome to spend some time perusing items at our gift shop, viewing our historical displays or enjoying a snack and beverage at one of our bars or the Barrymore's Café. The Independence Studio on 3 lobby opens 30 minutes prior to performance time. The box office is open Monday – Saturday beginning at 10AM and Sunday beginning at noon. If you need to pick up your tickets at will-call, you are welcome to stop by early and avoid long lines closer to show time.
Do you have group discounts?
We offer discounts for groups of 15 or more on select performances. Please call 215.574.3550 ext. 4 and we'll help you get the best seats and prices for your group.
Learn More:
Are your shows appropriate for children?
Parents know their children best. Most of our shows have played on Broadway and many have been made into movies. If you are worried about certain themes, a little internet research will help you decide what shows are best for your family. If you have a question about show content, feel free to contact a ticketing services representative at 215.574.3550.
If I cannot attend my show, can I get a refund or exchange?
We do not offer refunds on tickets. Subscribers can exchange their tickets, or donate their tickets back to the theatre for a tax-deductable donation, up to 24 hours prior to their performance. If it is more than 24 hours before your performance, single ticket buyers may exchange their tickets to another performance of the same show for $10 per ticket, plus any applicable upgrade fees.
Learn More:
What are the box office hours?
| | | |
| --- | --- | --- |
| DAY OF THE WEEK | SCHEDULE TYPE | BOX OFFICE HOURS |
| Monday | All Mondays | 10am to 6pm |
| Tuesday – Saturday | Non-Performance Dates | 10am to 6pm |
| Tuesday – Saturday | Performance Dates | 10am – Intermission |
| Sunday | Non-Performance Dates | Closed |
| Sunday | Performance Dates | 12pm to Intermission |
Please Note
, the box office staff cannot sell tickets to future performances or exchange tickets during the 30 minutes prior to a performance. The box office will remain open throughout the performance's intermission, except for the last show of the season.
WHAT SHOULD I DO IF I'VE MISPLACED MY TICKETS?
If you lose or misplace your tickets, please call Ticketing Services (10am-10pm) at 215.574.3550 ext. 1 before your performance date and we will be happy to provide replacements. Replacement tickets will be mailed to you or held at the box office.
What should I wear to the theatre?
We do not have an official dress code; however we would encourage comfortable, smart casual wear.
Where can I park?
The closest indoor lot is the Walnut Towers Garage, located directly across the street from the theatre, under Wills' Eye Hospital. There is also an outdoor lot just east of the theatre on Walnut Street. There are several other indoor and outdoor lots located within a few blocks of the theatre as well, and there is metered street parking in the vicinity.
Learn More:
Are there restaurants near the theatre?
There are many restaurants located within walking distance of the theatre. For a list of restaurants that offer discounts to Walnut subscribers, please visit our dining guide.
Learn More:
Are there devices for the hard-of-hearing?
The Walnut offers devices to assist the hearing impaired for Mainstage performances. Infrared hearing enhancers are available in the lobby on a first-come, first-served basis; quantities are limited. ASL-interpreted, audio-described and open-captioned performances are available for certain performances. Please view individual show calendars for additional information.
Learn More:
Is the theatre wheelchair accessible?
Yes, but not all seat locations are. Please call in advance for wheelchair seating, as seating is limited and offered to patrons on a first come first served basis. We have special wheelchair seating in the orchestra level of our Mainstage Theatre. We also offer ADA compliant water fountains and handicapped accessible restrooms on our orchestra level. There is an elevator to the mezzanine level of the Mainstage and to the Independence Studio on 3. Please remember that the seating configuration in the Independence Studio on 3 changes with each production, so it's always best for patrons in a wheelchair to arrive 30 minutes ahead-of-time. In this 80-seat theatre, seating is limited so please make your reservation early. If you have special needs such as aisle or Wheelchair seating, please call 215.574.3550 ext. 6, rather than ordering online.
ARE THERE ELEVATORS IN THE THEATRES?
Yes there is an elevator up to the mezzanine level and the Independence Studio on 3. Please note that there are steps in the mezzanine.
Is the theatre air conditioned?
Yes.
Are there concessions available at the theatre?
Yes. If you're interested in enjoying a coffee, dessert, snack or beverage during your visit, stop in at Barrymore's Café, located below the mainstage lobby. The café is open one hour prior to the show and at intermission. The walls are decorated with memorabilia featuring members of the Barrymore family, who have a long history with the Walnut and are famous for their work on stage and screen. We also have two other smaller bars, located in the orchestra and mezzanine lobbies, where you may purchase a beverage or snack. Refreshments are available in the lobby of Independence Studio on 3 for productions with an intermission.
Learn More:
Can I smoke inside the theatre?
Smoking is not permitted anywhere inside Walnut Street Theatre.
Can I take photographs or record the show?
No photography or recording devices are permitted in the theatre.
What is the running time of the show?
The running time of our Mainstage and Independence Studio on 3 performances vary by show. For specific information on your show, please visit the show page and look for the running time in the right-hand sidebar. Walnut Street Theatre for Kids productions run approximately one hour and do not have an intermission.
WHAT IF I AM LATE FOR THE SHOW?
The theatre is open 60 minutes prior to each Mainstage performance and 30 minutes prior to each Independence Studio on 3 performance. Please allow ample time for driving, dining, and parking when attending your performance. Latecomers will be seated at the discretion of management in order to prevent a disruption of performance already in progress. In most cases, if you are late you will be asked to sit in the first available seat until intermission. After intermission, latecomers can claim their original seats. Please arrive on time.
Is there show merchandise available?
The Walnut Street Theatre's gift shop has a wonderful array of show souvenirs, theatrical merchandise and stylish jewelry. The gift shop is open one hour prior to mainstage performances, at intermission and after the show.
Learn More:
Do you have a coat check?
We want you to be comfortable. Lockers are conveniently located in the mezzanine level lobby area where you can store your coats and other items.
IS THERE A LOST AND FOUND AT THE THEATRE?
Yes. If you misplace an item at the theatre, feel free to call 215.574.3550 ext. 1 and inquire if it has been found.
How do I become a volunteer usher?
For information on our Volunteer Usher program, view the Volunteer page or call our Audience Services Department at 215.574.3550 ext. 558.
Learn More:
How can I meet the actors?
If you would like to ask our actors questions about the show, consider attending a post-performance talk-back. Talk-backs are held following the first Wednesday evening and the second Sunday matinee for each of our Mainstage shows, and following the first Saturday matinee of each show in the Independence Studio on 3. Ask about these series when you subscribe!