America's Oldest · Founded 1808
The Luxury Box
Corporate Entertainment that brings together the magic of live theatre with a VIP experience at the Walnut!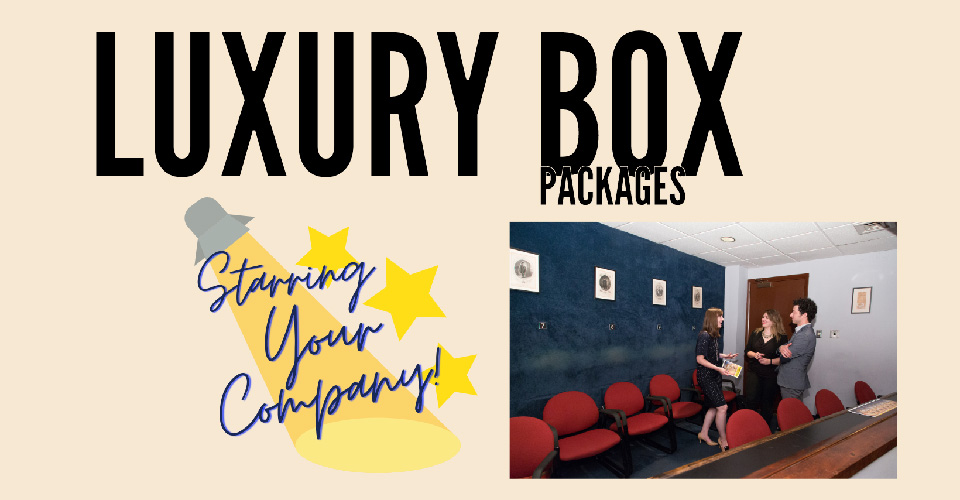 An evening in the Walnut Street Theatre Luxury Box guarantees your guests will have great seats and the perfect setting for comfortable and stylish socializing or corporate networking.
In-Box Amenities Include:
Roomy, private seating for up to ten in the orchestra section of the theatre with excellent sightlines to the stage
Complimentary beverages before the show and at intermission, including wine, beer, and soft drinks
Complimentary snacks before the show and at intermission
Use of private Donor Lounge restroom
Per show price: $1,250
5 Show Subscription Package: $3,950 (a 36% savings!)
Upgrade Your Experience!
Add on an exclusive lunch/dinner and optional tour at America's Oldest Theatre. Grab a drink and embark on a tour of our 214 year old, National Historic Landmark theatre, and learn more about what happens behind the scenes and which familiar celebrities have appeared on our stages. Gourmet, multi-course lunch/dinner served in a private lounge with personal bartender for ten guests can help to kick off a spectacular evening at the theatre.
Per show price: $3,075
5 Show Subscription Package: $13,070 (a 15% savings!)
To learn more, or create your VIP experience, please contact development@walnutstreettheatre.org
Box Office + Tickets
In This Section
Quick Links