Walnut Street Theatre on Tour
Spring 2018 Tour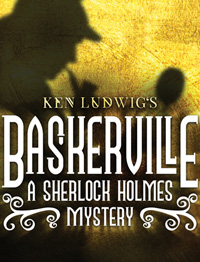 Ken Ludwig's
Baskerville: A Sherlock Holmes Mystery
An adaptation of Sir Arthur Conan Doyle's The Hound of the Baskervilles
Laughter is "elementary my dear Watson." Ken Ludwig's acclaimed adaptation of Sir Arthur Conan Doyle's 1902 classic mystery, The Hound of the Baskervilles, is full of intrigue and… laughs. The male heirs of the Baskerville line are being murdered one by one and the renowned sleuth, Sherlock Holmes, along with his trusted side-kick Dr. Watson, must work feverishly to crack the curse before it dooms the newest heir.
Witness five talented actors playing 40 quirky characters, and venture deep into a world filled with disguises, silly accents and murderous deceit. The journey travels through treacherous Devonshire moors, crowded railway stations, foggy London streets and gloomy baronial mansions. Join the investigation as these intrepid detectives follow leads, unravel clues, hit dead-ends, and zigzag with the story until the shockingly funny conclusion. All is not what it seems. Do you know whodunit?
"Baskerville is a madcap sendup of what you might hold dear about that Doyle classic, done up in the style of The 39 Steps."
— DC Theatre Scene
"…endlessly inventive… I recommend Baskerville unhesitatingly to anyone who loves theatricality… You'll find it here by the barrel-full — at once timeless, and startlingly new… Playwright Ken Ludwig is a master farceur, and his Baskerville takes the comic route every time... it will certainly delight audiences young and old.
— Philadelphia Magazine
To inquire about booking Ken Ludwig's Baskerville: A Sherlock Holmes Mystery, please visit www.baylinartists.com.
2018 Tour Schedule
buy tickets
February 7, 2018
FM Kirby Center
Wilkes Barre, PA
buy tickets
February 8, 2018
Powers Theater
Clemens Center · Elmira, NY
buy tickets
February 9, 2018
Mayo Performing Arts Center
Morristown, NJ
buy tickets
February 10, 2018
Stockton Performing Arts Center
Stockton University · Galloway, NJ
buy tickets
February 11, 2018
Hylton Performing Arts Center
George Mason University · Manassas, VA
buy tickets
February 14, 2018
The Reif Center
Grand Rapids, MN
buy tickets
February 16, 2018
Stephen B. Humphrey Theater
Saint John's University · Collegeville, MN
buy tickets
February 20-21, 2018
Earl Cameron Theatre
City Hall Arts Center · Hamilton, Bermuda
buy tickets
February 23, 2018
Popejoy Hall Center for the Arts
University of New Mexico · Albuquerque, NM
buy tickets
February 25, 2018
Haugh Performing Arts Center
Citrus College · Glendora, CA
buy tickets
February 27, 2018
McCallum Theatre for the Performing Arts
Palm Desert, CA
buy tickets
March 2, 2018
American Theatre
Hampton, VA
buy tickets
March 3, 2018
GMU Center for the Arts
George Mason University · Fairfax, VA
buy tickets
March 4, 2018
Weinberg Center
Frederick, MD