America's Oldest · Founded 1808
Production History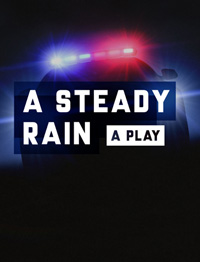 "a gritty, rich, thick, poetic and entirely gripping noir tale" - Chicago Tribune
A Steady Rain
By Keith Huff
2017-2018 Season
Independence Studio on 3 Production History
Tickets: $35-$40 · Running Time: 1 hour and 40 minutes
purchase a new subscription


This hard-hitting Broadway smash will keep you on the edge of your seat! Friends since kindergarten, Chicago cops Joey and Denny are like brothers. Intensely loyal, they want to do right by the force, their family and each other. Joey is a loner with a bit of a drinking problem. Denny is a family man passed over for promotion one time too many. Their relationship is put on the line after responding to a domestic disturbance that takes a turn for the worse. Each man's harrowing version of the truth becomes a fight for their own survival. Where the moral grey area exists, A Steady Rain begins.

Please note that this play contains strong language and subject matter.
Production photos by Mark Gavin · Click to Enlarge
Production History
In This Section
Quick Links