Production History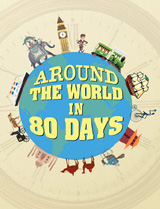 You're in for madcap fun when you travel Around the World in 80 Days!
Around the World in 80 Days
By Jules Verne · Adapted by Mark Brown
January 15 – February 3, 2013
Independence Studio on 3 Production History
Pack your bags for a trip Around the World in 80 Days. London. 1872. Phileas Fogg believes that, with modern transportation, it's now possible to travel around the world in 80 days. Impossible! It's a whirlwind journey filled with exotic locales, daring adventures, narrow escapes and great fun. Beware! There's villainy, secret plots, a damsel in distress and narrow escapes that will keep you guessing. Jules Verne's masterpiece will keep you on the edge of your seat—at least until you begin to roll in the aisle with laughter.
Production photos by Mark Garvin · Click to Enlarge