209
th
Anniversary Season · America's Oldest · Founded 1809
Production History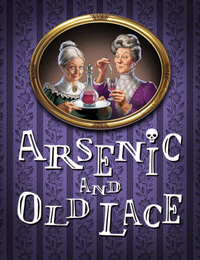 A dreamy laughs to-die-for Broadway comedy classic!
Arsenic and Old Lace
By Joseph Kesselring
March 11 – April 27, 2014
Mainstage Production History
ARSENIC AND OLD LACE is one of the American theatre's funniest comedies. Drama critic Mortimer Brewster is engaged to the lovely Elaine Harper... but will she fit in with his 'unusual' family? Abby and Martha Brewster are known throughout Brooklyn for their many acts of kindness and charity. But Mortimer has just learned that his charming spinster aunts have taken to relieving the loneliness of old men by inviting them in for a nice glass of home-made elderberry wine laced with arsenic, strychnine, and "just a pinch" of cyanide! What else can go wrong? Their brother believes that he's Teddy Roosevelt! Don't miss our 75th Anniversary production of the classic madcap comedy ARSENIC AND OLD LACE.
Production photos by J. Urdaneta Photography · Click to Enlarge
Production History
In This Section
Quick Links