209
th
Anniversary Season · America's Oldest · Founded 1809
Production History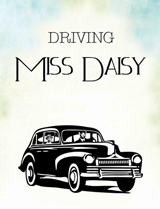 Take your seat for the ride of a lifetime when you're Driving Miss Daisy! It's an American classic!
Driving Miss Daisy
By Alfred Uhry
January 14 – February 2, 2014
Independence Studio on 3 Production History
Take a ride down memory lane and get ready to experience the magic that made Driving Miss Daisy a Pulitzer Prize-winning hit and an Academy Award-winning film. It's Atlanta, 1948. When the elderly Miss Daisy has an accident, her son hires Hoke, an African American, to be her chauffeur. At first Miss Daisy will have none of it. On their journey however, the two become friends. Driving Miss Daisy is an iconic tale of pride, changing times and the transformative power of friendship that has warmed the hearts of millions.
Production photos by Mark Garvin · Click to Enlarge
Production History
In This Section
Quick Links