Production History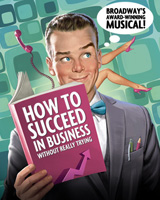 You'll dream of musical comedy with Broadway's Tony and Pulitzer Prize-winning classic!
How To Succeed In Business Without Really Trying
Book by Abe Burrows and Jack Weinstock and Willie Gilbert · Music and Lyrics by Frank Loesser
Based on How To Succeed In Business Without Really Trying by Shepherd Mead
May 13 – July 13, 2014
Mainstage Production History
A musical satire of 1960s big business and all it held sacred, HOW TO SUCCEED IN BUSINESS WITHOUT REALLY TRYING follows the rise of J. Pierrepont Finch, who uses a little handbook called "How To Succeed In Business" to climb the corporate ladder from lowly window washer to high-powered executive, tackling such familiar but potent dangers as the company man, the office party, backstabbing co-workers, caffeine addiction and, of course, true love. This blockbuster musical comedy features a beloved score packed with such hit standards as "I Believe in You," "Happy to Keep His Dinner Warm," "The Company Way," "Been a Long Day," "Rosemary" and "Brotherhood of Man."
Production photos by Mark Garvin · Click to Enlarge