Production History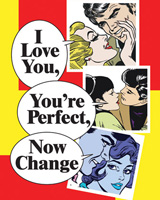 If you've ever had a relationship, you'll fall in love with this musical hit about the real thing!
I Love You, You're Perfect, Now Change
Book and Lyrics by Joe DiPietro · Music by Jimmy Roberts
April 29 – June 29, 2014
Independence Studio on 3 Production History
I Love You, You're Perfect, Now Change is everything you have ever secretly thought about dating, romance, marriage, lovers, husbands, wives and in-laws, but were afraid to admit! This hilarious revue pays tribute to those who have loved and lost, to those who have fallen on their face at the beginning of romance, to those who have dared to ask, 'Say, what are you doing Saturday night?' This perfect relationship musical ran for more than 5,000 performances Off-Broadway and has kept audiences laughing from London's West End to Beijing. Find love and laughter at the Walnut!
Production photos by Mark Garvin · Click to Enlarge