209
th
Anniversary Season · America's Oldest · Founded 1809
Production History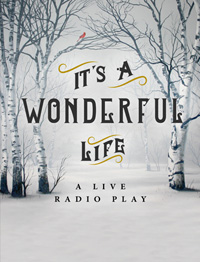 "One of the best holiday shows around! Fresh and inventive. Highly Recommended."
It's A Wonderful Life: A Live Radio Play
October 31 – December 17, 2017
Independence Studio on 3 Production History
Tickets: $35-$40 · Running Time: 1 hour and 30 minutes
purchase a new subscription


The art of storytelling is heavenly when you discover It's A Wonderful Life. The holiday classic comes to life anew, with five actors including an imaginative sound-effects artist, as a radio play! George Bailey dreams of traveling the world. His plans are postponed when the family business faces financial problems. Down on his luck, Bailey is at the end of his rope. He questions his purpose in life and considers ending it all. Just then, an angel arrives to show Bailey how the lives of those he loves would be affected if he were not around. Your entire family will love this story from the heart that rings true today!
Production photos by Mark Gavin · Click to Enlarge
Production History
In This Section
Quick Links