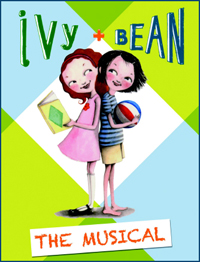 Ivy + Bean: The Musical
Book, Music and Lyrics by SCOTT ELMEGREEN • Based on the books by ANNIE BARROWS • Illustrated by SOPHIE BLACKALL
June 1 – June 10, 2018
WST for Kids
Tickets: $18-$15 · Running Time: 1 hour
purchase a new subscription


Ivy and Bean could not be more different. They form an unlikely friendship when Bean decides to get revenge on her bossy, older sister. When these two are together the adventures are endless. In this lively musical Ivy and Bean discover that their differences are what make their friendship so exciting.
Schedule


Tickets can be purchased at the Walnut box office; by phone at 215-574-3550, 10am-10pm, 7 days a week; or online by selecting any performance time below. Tickets are also available by calling Ticketmaster at 800-982-2787. Ticket price includes a $2.50 historic facility fee.
Walnut Street Theatre is an intimate 1100-seat theatre, where no seat is further than 80 feet from the stage. It's a great place to see a show. The auditorium has great sight lines, without obstructions, and the acoustics are terrific. Come see for yourself!
June 2018