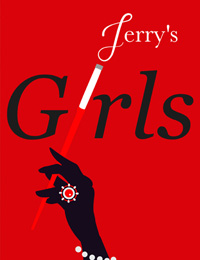 "Warm, witty, lively and terrific!"
Jerry's Girls
Music by Jerry Herman · Lyrics by Jerry Herman · Conceived by Larry Alford, Wayne Cilento, Jerry Herman

LIMITED ENGAGEMENT! MUST CLOSE MAY 28
April 4 – May 28, 2017
Independence Studio on 3
Tickets: $35 - $40 · Running Time: 2 hours and 10 minutes
Spend an evening with the music of Jerry Herman and you too will cheer for Broadway's electrifying tribute to this all-American master of song. Taking center stage are some of Broadway's best musicals, including Hello Dolly!, Mame, Mack and Mabel, Dear World and La Cage Aux Folles. Jerry's Girls celebrates glamour, optimism, love, melody and women! The all-female cast reminds us how Jerry Herman has given voice to some of Broadway's biggest legends, with his unique ability to write comedy, ballads and show-stoppers. He's won multiple Tony, Grammy, Olivier and Drama Desk Awards but, first and foremost, he's also won our heart!
Production Related Video
PRODUCTION PHOTOS BY MARK GARVIN · Click to Enlarge
Schedule

Tickets can be purchased at the Walnut box office; by phone at 215-574-3550, 10am-10pm, 7 days a week; or online by selecting any performance time below. Tickets are also available by calling Ticketmaster at 800-982-2787. Ticket price includes a $2.50 historic facility fee.
Seating is general admission. Come early and choose your seats!
A limited number of reserved premium seats are available for each performance. Ticket price includes a $45.00 donation to Walnut Street Theatre. For more information, call 215-574-3550, ext. 1, 10am-10pm, 7 days a week; or select a performance below.
April 2017
Sun
Mon
Tue
Wed
Thu
Fri
Sat
 
 
 

1

 
 

2

 
 

3

 
 

4

7:30 pm

5

7:30 pm

6

7:30 pm

7

7:30 pm

8

2:30 pm * 7:30 pm

9

2:30 pm 7:30 pm

10

 
 

11

7:30 pm

12

7:30 pm

13

7:30 pm

14

7:30 pm

15

2:30 pm 7:30 pm

16

2:30 pm 7:30 pm

17

 
 

18

7:30 pm

19

7:30 pm

20

7:30 pm

21

7:30 pm

22

2:30 pm 7:30 pm

23

2:30 pm 7:30 pm

24

 
 

25

7:30 pm

26

7:30 pm

27

7:30 pm

28

7:30 pm

29

2:30 pm 7:30 pm

30

2:30 pm 7:30 pm
 
 
 
May 2017
Sun
Mon
Tue
Wed
Thu
Fri
Sat
 
 
 

1

 
 

2

7:30 pm

3

7:30 pm

4

7:30 pm

5

7:30 pm

6

2:30 pm 7:30 pm

7

2:30 pm 7:30 pm

8

 
 

9

7:30 pm

10

7:30 pm

11

7:30 pm

12

7:30 pm

13

2:30 pm 7:30 pm

14

2:30 pm 7:30 pm

15

 
 

16

7:30 pm

17

7:30 pm

18

7:30 pm

19

7:30 pm

20

2:30 pm 7:30 pm

21

2:30 pm 7:30 pm

22

 
 

23

7:30 pm

24

7:30 pm

25

7:30 pm

26

7:30 pm

27

2:30 pm 7:30 pm

28

2:30 pm 7:30 pm

29

 
 

30

 
 

31

 
 
 
 
 
Key
* = Free post-performance discussion following show