Production History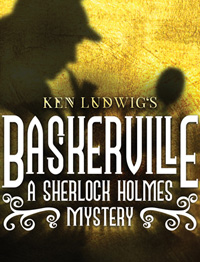 "...endlessly inventive... it will certainly delight audiences young and old."
Ken Ludwig's Baskerville, A Sherlock Holmes Mystery
An Adaptation of Sir Arthur Conan Doyle's The Hound of Baskervilles
January 2 – February 4, 2018
Independence Studio on 3 Production History
Tickets: $35-$40 · Running Time: 2 hours
purchase a new subscription


Laughter is "elementary my dear Watson." Ken Ludwig's acclaimed adaptation of Sir Arthur Conan Doyle's 1902 classic mystery, The Hound of the Baskervilles, is full of intrigue and... huge laughs. The male heirs of the Baskerville line are being murdered one by one and the renowned sleuth, Sherlock Holmes, along with his trusted sidekick, Dr. Watson, must work feverishly to crack the curse before it dooms the newest heir. Five talented actors, playing 40 quirky characters, follow leads, unravel clues, hit dead-ends, and zigzag with the story until the shockingly funny conclusion. All is not what it seems. Do you know whodunit?
Production photos by Mark Gavin · Click to Enlarge