209
th
Anniversary Season · America's Oldest · Founded 1809
Production History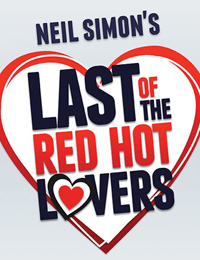 "Delightfully hilarious and witty"
Last Of The Red Hot Lovers
By Neil Simon
January 10 – February 5, 2017
Independence Studio on 3 Production History
Tickets: $30 - $35 · Running Time: 2 hours and 15 minutes
Let's return to the 1960s, an era where we were free to choose who we wanted to love and when. But in this world filled with "Mad Men" and "Mod Women," was it easier to choose a mate? In this all-new production of Neil Simon's Last of the Red Hot Lovers, true comedy ensues when a man looks for something new and different, but ends up finding himself in the same situation, again and again! It's the revolution of a laugh-time and we've got the woman to prove it! Fall in love all over again with the Last of the Red Hot Lovers.
Production photos by Mark Garvin · Click to Enlarge
Production History
In This Section
Quick Links