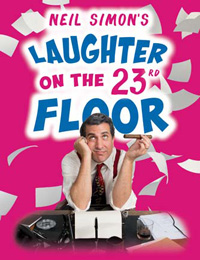 Laughter On The 23rd Floor
By Neil Simon
January 17 – March 5, 2017
Mainstage
Tickets: $20 - $85 · Running Time: 2 hours
Neil Simon, America's most popular playwright, gives a peek into the writer's room of a hit 1950's television show in Laughter On The 23rd Floor. People everywhere gather around the TV each week to watch their favorite comedian Max Prince. He's loud, brash and larger than life. His temper tantrums and one-liners have the power to make careers, or make misery for the writers working around him. The network censors want to change the show to make it more "advertiser friendly." But messing with Max can only mean the jokes and jabs will get funnier and wilder in an uncertain future, as the world of television heads for change. Laughter On The 23rd Floor has been called "Simon's funniest play!"
Please note: True to Mr. Simon's work as a writer for comedy shows of the 1950s, this production does contain some adult language.
Artwork: Frank Ferrante in Laughter on the 23rd Floor
Download the Study Guide:
production facts · Playbill PDF
Production Related Video
roduction photos by Mark Garvin · Click to Enlarge
Performance Schedule

Now seating subscribers!
Tickets can be purchased at the Walnut box office; by phone at 215-574-3550, 10am-10pm, 7 days a week; or online by selecting any performance time below. Tickets are also available by calling Ticketmaster at 800-982-2787. Ticket price includes a $2.50 historic facility fee.
Walnut Street Theatre is an intimate 1100-seat theatre, where no seat is further than 80 feet from the stage. It's a great place to see a show. The auditorium has great sight lines, without obstructions, and the acoustics are terrific. Come see for yourself!
A limited number of premium seats are available for each performance. Ticket price includes an $87.50 donation to Walnut Street Theatre. For more information, call 215.574.3550, ext. 1, 10am-10pm, 7 days a week; or select a performance below.
January 2017
Sun
Mon
Tue
Wed
Thu
Fri
Sat

1

 
 

2

 
 

3

 
 

4

 
 

5

 
 

6

 
 

7

 
 

8

 
 

9

 
 

10

 
 

11

 
 

12

 
 

13

 
 

14

 
 

15

 
 

16

 
 

17

8 pm

18

8 pm *

19

8 pm

20

8 pm

21

2 pm 8 pm

22

2 pm 7 pm

23

 
 

24

8 pm

25

7 pm

26

8 pm

27

8 pm

28

2 pm 8 pm

29

2 pm * 7 pm

30

 
 

31

8 pm
 
 
 
February 2017
Sun
Mon
Tue
Wed
Thu
Fri
Sat
 
 
 

1

8 pm

2

2 pm 8 pm

3

8 pm

4

8 pm

5

2 pm 7 pm

6

 
 

7

8 pm

8

8 pm

9

2 pm 8 pm

10

8 pm

11

2 pm 8 pm

12

2 pm 7 pm 4

13

 
 

14

8 pm

15

8 pm

16

2 pm 8 pm

17

8 pm

18

2 pm 8 pm

19

2 pm 7 pm

20

 
 

21

8 pm

22

8 pm

23

8 pm

24

8 pm

25

2 pm 8 pm

26

2 pm 7 pm

27

 
 

28

8 pm
 
 
 
March 2017
Sun
Mon
Tue
Wed
Thu
Fri
Sat
 
 
 

1

8 pm

2

2 pm 8 pm

3

8 pm

4

2 pm 8 pm

5

2 pm 7 pm

6

 
 

7

 
 

8

 
 

9

 
 

10

 
 

11

 
 

12

 
 

13

 
 

14

 
 

15

 
 

16

 
 

17

 
 

18

 
 

19

 
 

20

 
 

21

 
 

22

 
 

23

 
 

24

 
 

25

 
 

26

 
 

27

 
 

28

 
 

29

 
 

30

 
 

31

 
 
 
 
 
Key
4 = Open Captioned performance  


* = Free post-performance discussion following show