Production History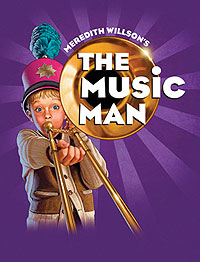 You'll love a classic all-American Broadway musical for the holiday season!
Meredith Willson's The Music Man
Book, Music and Lyrics by Meredith Willson
Story by Meredith Willson and Franklin Lacey
November 6, 2012 – January 6, 2013
Mainstage Production History
Celebrate the holiday season with one of the greatest Broadway musicals of all time, THE MUSIC MAN! It's 1912 and the lovable, fast-talking con man "Professor" Harold Hill arrives in River City, Iowa promising the townsfolk that he can teach the town's children how to play in a magnificent marching band if they buy uniforms and instruments from him. It's all part of a big swindle, but falling in love with the town librarian wasn't part of the deal. With classic tunes that include "Ya Got Trouble," "Goodnight My Someone," "Till There Was You," and the show-stopping "Seventy-Six Trombones," THE MUSIC MAN is an irresistible, all-American musical for the entire family!
Production photos by Mark Garvin · Click to Enlarge