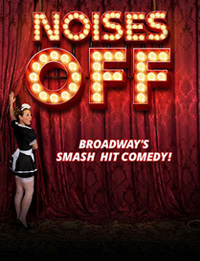 "The funniest farce ever written!" -New York Post
Noises Off
By Michael Frayn
March 13 – April 29, 2018
Mainstage
Tickets: $20-$87 · Running Time: 2 hours and 25 minutes
Brace yourself for comic chaos with the rip-roaring play within a play, Noises Off. The Opening Night performance of the farce Nothing On is just hours away, and as the cast stumbles through their final dress rehearsal, things couldn't be going any worse. With lines being forgotten, love triangles unraveling and sardines flying everywhere, it's complete pandemonium... and we haven't even reached intermission! Can the cast pull their act together on the stage even if they can't behind the scenes? Full of amazing surprises and glorious humor, you will relish every delicious moment of this classic comedy that The New York Times exclaims, "voyages to the outer limits of hilarity!"
Artwork Pictures: Alanna J. Smith
Production photos by Mark Gavin · Click to Enlarge
Schedule

Tickets can be purchased at the Walnut box office; by phone at 215.574.3550, 10am-10pm, 7 days a week; or online by selecting any performance time below. Tickets are also available by calling Ticketmaster at 800.982.2787. Ticket price includes a $2.50 historic facility fee.
Walnut Street Theatre is an intimate 1100-seat theatre, where no seat is further than 80 feet from the stage. It's a great place to see a show. The auditorium has great sight lines, without obstructions, and the acoustics are terrific. Come see for yourself!
March 2018
Sun
Mon
Tue
Wed
Thu
Fri
Sat
 
 
 

1

 
 

2

 
 

3

 
 

4

 
 

5

 
 

6

 
 

7

 
 

8

 
 

9

 
 

10

 
 

11

 
 

12

 
 

13

8 pm

14

8 pm *

15

8 pm

16

8 pm

17

2 pm 8 pm

18

2 pm 7 pm

19

 
 

20

8 pm

21

7 pm

22

8 pm

23

8 pm

24

2 pm 8 pm

25

2 pm * 7 pm

26

 
 

27

8 pm

28

8 pm

29

2 pm 8 pm

30

8 pm

31

8 pm
April 2018
Sun
Mon
Tue
Wed
Thu
Fri
Sat

1

2 pm 7 pm

2

 
 

3

8 pm

4

8 pm

5

2 pm 8 pm

6

8 pm

7

2 pm 8 pm

8

2 pm 7 pm 4

9

 
 

10

8 pm

11

8 pm

12

2 pm 8 pm

13

8 pm

14

2 pm 8 pm

15

2 pm

16

 
 

17

8 pm

18

8 pm

19

2 pm 8 pm

20

8 pm

21

2 pm 8 pm

22

2 pm

23

 
 

24

8 pm

25

8 pm

26

2 pm 8 pm

27

8 pm

28

2 pm 8 pm

29

2 pm

30

 
 
 
 
 
Key
4 = Open Captioned performance  


* = Free post-performance discussion following show