209
th
Anniversary Season · America's Oldest · Founded 1809
Production History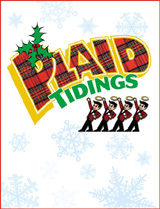 You'll be dreaming of a "Plaid" Christmas this holiday season… with the boys from Forever Plaid!
Plaid Tidings
By Stuart Ross
November 20 – December 30, 2012
Independence Studio on 3 Production History
Forever Plaid, your favorite heavenly boy group, brings us Plaid Tidings... just in time for the holidays! Frankie, Sparky, Jinx and Smudge return to the Walnut where they once wove the magic of the 50s and 60s into the hearts of everyone. Rosemary Clooney has encouraged the boys to return to Earth this year, to make things right in the world. So stuff your stockings with 1950s tunes and Holiday gems like "Let It Snow" and "Have Yourself a Merry Little Christmas." It's musical fun with a big plaid Christmas bow on top!
Production photos by Mark Garvin · Click to Enlarge
Production History
In This Section
Quick Links