America's Oldest · Founded 1808
Production History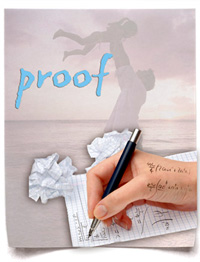 Don't miss this Pulitzer Prize-winning masterpiece about fathers and daughters, prior to our production's national tour!
Proof
By David Auburn
2011-2012 Season
Independence Studio on 3 Production History
Everyone has parents and everyone aspires to be like them in some way. But what happens when there's a distinct possibility that we may inherit their talent—and their madness? Proof is a remarkable and luminous play about fathers and daughters, genius and insanity, legacy and truth. Winner of both the Pulitzer Prize for Drama and the Tony Award for Best Play, Proof introduces us to a young woman, haunted by her father's death. She seems to have inherited his talent for numbers. Or has she?
Production photos by Mark Garvin · Click to Enlarge
Production History
In This Section
Quick Links