America's Oldest · Founded 1808
Production History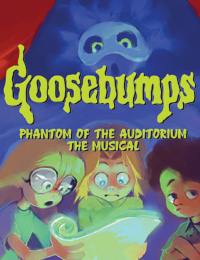 R.L. Stine's GOOSEBUMPS: Phantom of the Auditorium
Adapted for the stage with book and lyrics by John Maclay, music and lyrics by Danny Abosch. Orchestrations and Arrangements by Danny Abosch. Book, Lyrics, Songs, All Arrangements & All Orchestrations ©2016. 2017 Scholastic Entertainment Inc. All Rights Reserved.
2018-2019 Season
WST for Kids Production History
Running Time: Appx. 1 hour, no intermission
This frighteningly fun musical based on the beloved series from R. L. Stine investigates the strange things happening during rehearsals of Brooke and Zeke's school play. Is it a practical joke or is the school's theater really haunted? Follow the two on a silly and (only a little) spooky musical mystery.
Production History
In This Section
Quick Links