Production History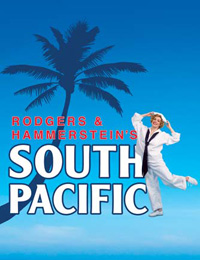 MATINEE ADDED BY POPULAR DEMAND!
Wednesday, October 19 at 2:00pm
GREAT SEATS AVAILABLE NOW!
Rodgers & Hammerstein's South Pacific
Richard Rodgers • Lyrics by Oscar Hammerstein II • Book by Oscar Hammerstein II and Joshua Logan • Adapted from the Pulitzer Prize-winning novel "Tales of the South Pacific" by James A. Michener
September 6 – October 23, 2016
Mainstage Production History
Tickets: $20 - $95 · Running Time: 2 hours and 50 minutes
Winner of the Tony Award for Best Musical and the Pulitzer Prize! Rodgers & Hammerstein's American classic, South Pacific, weaves together tales of romance, duty and valor to bring you a hilarious, heartbreaking, and thought-provoking Broadway musical. Nellie, a spunky nurse from Arkansas, falls in love with Emile, a French plantation owner. At the same time, U.S. Lieutenant Cable falls for a beautiful island native named Liat. On this island of paradise, can true love survive cultural prejudices and the threat of war? The thrilling score includes "I'm Gonna Wash That Man Right Outa My Hair," "Some Enchanted Evening," "There Is Nothing Like a Dame," "Younger Than Springtime" and "I'm in Love with a Wonderful Guy."
Artwork: Kate Fahrner in South Pacific
Download the Study Guide:
production facts · Playbill PDF
Production Related Video
Production photos by Mark Garvin · Click to Enlarge