Production History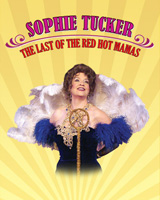 Come along with Sophie Tucker, the 'first broad' of American theatre!
Sophie Tucker: The Last Of The Red Hot Mamas
By Richard Hopkins, Jack Fournier and Kathy Halenda
November 19 – December 29, 2013
Independence Studio on 3 Production History
Spend an intimate evening with Sophie Tucker: The Last of the Red Hot Mamas! She was America's Queen of the double entendre. Naughty? Yes, in a fun-loving way with a wink or two, that's never graphic or obscene. Take delight in the woman who inspired generations of comedians (including Bette Midler) and celebrate musical hits from the 1920s, including "Real Women Have Curves," "Living Alone and I Like It," "After You've Gone," "Fifty Million Frenchmen Can't Be Wrong," "My Yiddishe Momme," "Life Begins at Forty" and, her uplifting signature song, "Some of These Days."
Photo credit: Kathy Halenda as Sophie Tucker · Click to Enlarge