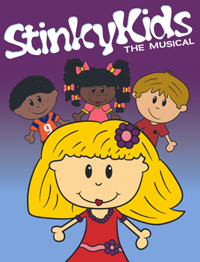 StinkyKids: The Musical
Book and lyrics by SAMMY BUCK • Music by DANIEL S. ACQUISTO • Based on StinkyKids by BRITT MENZIES
February 3 – February 11, 2018
WST for Kids
Tickets: $18-$15 · Running Time: 1 hour
purchase a new subscription


When Britt wakes up with a massive wad of gum in her hair she knows she's in trouble. She enlists the help of her friends to get her out of a very sticky situation. Mayhem ensues as these friends learn from their mistakes and discover the true value of friendship.
Schedule


Tickets can be purchased at the Walnut box office; by phone at 215-574-3550, 10am-10pm, 7 days a week; or online by selecting any performance time below. Tickets are also available by calling Ticketmaster at 800-982-2787. Ticket price includes a $2.50 historic facility fee.
Walnut Street Theatre is an intimate 1100-seat theatre, where no seat is further than 80 feet from the stage. It's a great place to see a show. The auditorium has great sight lines, without obstructions, and the acoustics are terrific. Come see for yourself!
February 2018