Production History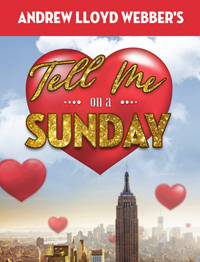 "Andrew Lloyd Webber has a superb gift for melody... achingly gorgeous" -The Times
Tell Me On A Sunday
Music by Andrew Lloyd Webber • Lyrics by Don Black
2017-2018 Season
Independence Studio on 3 Production History
Tickets: $35-$40 · Running Time: 75 minutes
purchase a new subscription

Limited Engagement!


A young English girl brimming with optimism arrives in New York seeking success in life and love. But as she weaves her way through the maze of the city and her own anxieties, frustrations and heartaches, she begins to wonder whether she's been looking for love in all the wrong places.

This intimate musical features a score from Andrew Lloyd Webber, the composer of some of the world's best known musicals including Cats, Evita, Joseph and the Amazing Technicolor Dreamcoat, Jesus Christ Superstar, The Phantom of the Opera, Sunset Boulevard, and School of Rock.

Production photos by Mark Gavin · Click to Enlarge