209
th
Anniversary Season · America's Oldest · Founded 1809
Production History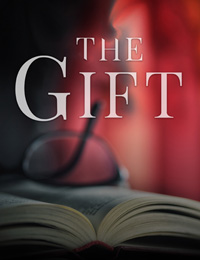 "A lovely and illuminating surprise, as the best gifts should be!"
The Gift
By Will Stutts
February 21 – March 19, 2017
Independence Studio on 3 Production History
Tickets: $30 - $35 · Running Time: 1 hour and 40 minutes
On a Southern porch in a small town in Alabama, two friends get together again. He is an internationally renowned author, embarking on an adventurous new idea for his next novel. He cannot do it alone. She is a talented writer, secure in the quiet safety of home, unable to bring her story to life. They have each other and they have a gift. Fact and fiction may lie beneath the truth. What is the secret of the Mockingbird? When these two writers join forces, each becomes whole and The Gift finds a place in history for them both. The World Premiere was at the Walnut in 1998!
Production photos by Mark Garvin · Click to Enlarge
Production History
In This Section
Quick Links