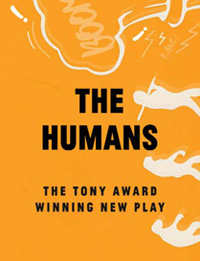 "This is why we go to the theatre, it's the BEST PLAY OF THE YEAR!" -New York Magazine
The Humans
By Stephen Karam
January 16 – March 4, 2018
Mainstage
Tickets: $20-$87 · Running Time: 1 hour and 35 minutes
Winner of over twenty 2016 Best Play Awards, including the Tony Award! After a sleepless night, Erik Blake brings his family from Pennsylvania to celebrate Thanksgiving at his daughter's new apartment in lower Manhattan. As darkness falls outside the crumbling pre-war duplex, mysterious things start to go bump in the night and family tensions reach a boiling point. The hopes, dreams, and fears of the American middle class are first coaxed—then shoved—into the light in this humorous, hopeful, and heart-tugging new play. Entertainment Weekly raves The Humans is "hilarious and unforgettable—the best play of the year!"
Production photos by Mark Gavin · Click to Enlarge
Schedule

Tickets can be purchased at the Walnut box office; by phone at 215-574-3550, 10am-10pm, 7 days a week; or online by selecting any performance time below. Tickets are also available by calling Ticketmaster at 800-982-2787. Ticket price includes a $2.50 historic facility fee.

Walnut Street Theatre is an intimate 1100-seat theatre, where no seat is further than 80 feet from the stage. It's a great place to see a show. The auditorium has great sight lines, without obstructions, and the acoustics are terrific. Come see for yourself!
January 2018
Sun
Mon
Tue
Wed
Thu
Fri
Sat
 
 
 

1

 
 

2

 
 

3

 
 

4

 
 

5

 
 

6

 
 

7

 
 

8

 
 

9

 
 

10

 
 

11

 
 

12

 
 

13

 
 

14

 
 

15

 
 

16

8 pm

17

8 pm *

18

8 pm

19

8 pm

20

2 pm 8 pm

21

2 pm 7 pm

22

 
 

23

8 pm

24

7 pm

25

8 pm

26

8 pm

27

2 pm 8 pm

28

2 pm * 7 pm

29

 
 

30

8 pm

31

8 pm
 
 
 
February 2018
March 2018
Sun
Mon
Tue
Wed
Thu
Fri
Sat
 
 
 

1

2 pm 8 pm

2

8 pm

3

2 pm 8 pm

4

2 pm

5

 
 

6

 
 

7

 
 

8

 
 

9

 
 

10

 
 

11

 
 

12

 
 

13

 
 

14

 
 

15

 
 

16

 
 

17

 
 

18

 
 

19

 
 

20

 
 

21

 
 

22

 
 

23

 
 

24

 
 

25

 
 

26

 
 

27

 
 

28

 
 

29

 
 

30

 
 

31

 
 
Key
4 = Open Captioned performance  


* = Free post-performance discussion following show