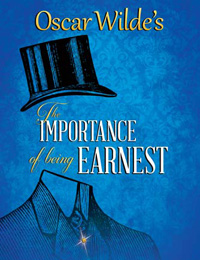 The Importance Of Being Earnest
By Oscar Wilde
March 14 – April 30, 2017
Mainstage
Tickets: $20 - $85 · Running Time: 2 hours and 20 minutes
You can never be too (two) Earnest. The results would be a world filled with chaos, mistaken identity and uncontrollable laughter! But when you're Wilde, you have to take that chance. The Importance Of Being Earnest tells the story of two bachelor friends, dandy Algernon Moncrieff and reliable John (Jack) Worthing, as they take on double lives to court the attentions of the desirable Gwendolyn Fairfax and Cecily Cardew. But the gallants must then grapple with the uproarious consequences of their ruse… and with the formidable Lady Bracknell. Oscar Wilde's much loved and exhilarating masterpiece, with its high comedy and witty dialogue have helped make The Importance Of Being Earnest Wilde's most enduringly popular play.
Download the Study Guide:
production facts · Playbill PDF
Production Related Video
PRODUCTION PHOTOS BY MARK GARVIN · Click to Enlarge
Schedule

Now seating subscribers!
Tickets can be purchased at the Walnut box office; by phone at 215-574-3550, 10am-10pm, 7 days a week; or online by selecting any performance time below. Tickets are also available by calling Ticketmaster at 800-982-2787. Ticket price includes a $2.50 historic facility fee.
Walnut Street Theatre is an intimate 1100-seat theatre, where no seat is further than 80 feet from the stage. It's a great place to see a show. The auditorium has great sight lines, without obstructions, and the acoustics are terrific. Come see for yourself!
A limited number of premium seats are available for each performance. Ticket price includes an $87.50 donation to Walnut Street Theatre. For more information, call 215.574.3550, ext. 1, 10am-10pm, 7 days a week; or select a performance below.
March 2017
Sun
Mon
Tue
Wed
Thu
Fri
Sat
 
 
 

1

 
 

2

 
 

3

 
 

4

 
 

5

 
 

6

 
 

7

 
 

8

 
 

9

 
 

10

 
 

11

 
 

12

 
 

13

 
 

14

8 pm

15

8 pm *

16

8 pm

17

8 pm

18

2 pm 8 pm

19

2 pm 7 pm

20

 
 

21

8 pm

22

7 pm

23

8 pm

24

8 pm

25

2 pm 8 pm

26

2 pm * 7 pm

27

 
 

28

8 pm

29

8 pm

30

2 pm 8 pm

31

8 pm
 
 
 
April 2017
Sun
Mon
Tue
Wed
Thu
Fri
Sat
 
 
 

1

8 pm

2

2 pm 7 pm

3

 
 

4

8 pm

5

8 pm

6

2 pm 8 pm

7

8 pm

8

2 pm 8 pm

9

2 pm 7 pm 4

10

 
 

11

8 pm

12

8 pm

13

2 pm 8 pm

14

8 pm

15

2 pm 8 pm

16

2 pm

17

 
 

18

8 pm

19

8 pm

20

11 am + 8 pm

21

8 pm

22

2 pm 8 pm

23

2 pm 7 pm

24

 
 

25

8 pm

26

8 pm

27

2 pm 8 pm

28

8 pm

29

2 pm 8 pm

30

2 pm
 
 
 
Key
4 = Open Captioned performance  


* = Free post-performance discussion following show
+ = Student Matinee