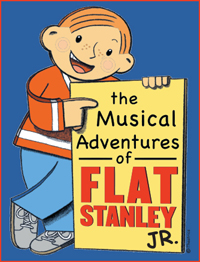 The Musical Adventures Of Flat Stanley Jr.
Book by TIMOTHY A. McDONALD • Lyrics by TIMOTHY A. McDONALD and JONATHAN K. WALLER • Music by DAVID WEINSTEIN, JONATHAN K. WALLER, TIMOTHY A. McDONALD and STEPHEN GABRIEL • Based on the Book Flat Stanley by JEFF BROWN • Illustrations by SCOTT NASH
March 31 – April 14, 2018
WST for Kids
Tickets: $18-$15 · Running Time: 1 hour
purchase a new subscription


Stanley Lambchop is an ordinary ten year old boy who wishes his life was a little more exciting. One morning Stanley wakes up to find he is very, very flat. He decides to make the best of every situation as he's whisked away on a journey more exciting than he could ever have imagined.
Schedule


Tickets can be purchased at the Walnut box office; by phone at 215-574-3550, 10am-10pm, 7 days a week; or online by selecting any performance time below. Tickets are also available by calling Ticketmaster at 800-982-2787. Ticket price includes a $2.50 historic facility fee.
Walnut Street Theatre is an intimate 1100-seat theatre, where no seat is further than 80 feet from the stage. It's a great place to see a show. The auditorium has great sight lines, without obstructions, and the acoustics are terrific. Come see for yourself!
March 2018
Sun
Mon
Tue
Wed
Thu
Fri
Sat
 
 
 

1

 
 

2

 
 

3

 
 

4

 
 

5

 
 

6

 
 

7

 
 

8

 
 

9

 
 

10

 
 

11

 
 

12

 
 

13

 
 

14

 
 

15

 
 

16

 
 

17

 
 

18

 
 

19

 
 

20

 
 

21

 
 

22

 
 

23

 
 

24

 
 

25

 
 

26

 
 

27

 
 

28

 
 

29

 
 

30

 
 

31

10:30 am 1 pm 3:30 pm
April 2018
Key
2 = ASL and Audio Described Performance