209
th
Anniversary Season · America's Oldest · Founded 1809
Production History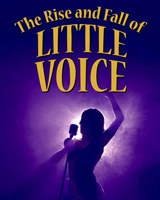 In this exciting play with music, finding your voice can be thrilling, heartbreaking and a dream filled with divas!
The Rise And Fall Of Little Voice
By Jim Cartwright
March 25 – April 13, 2014
Independence Studio on 3 Production History
Little Voice is a shy, reclusive girl who loves to sing. She desperately misses her deceased father and spends all her time in her room, singing along to his old record collection. She impersonates all his favorite divas: Shirley Bassey, Marilyn Monroe, Judy Garland and Dusty Springfield. When her mom meets a new man, he sees Little Voice as his ticket to success. All Little Voice wants is a normal life. She wants to be loved. This poignant and funny love story was a huge hit in the West End and became an Oscar-nominated movie.
Production History
In This Section
Quick Links