209
th
Anniversary Season · America's Oldest · Founded 1809
Production History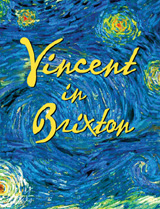 This Olivier Award-winning Best Play is an 'art'ful study of the nurturing of genius and insanity!
Vincent in Brixton
By Nicholas Wright
February 19 – March 10, 2013
Independence Studio on 3 Production History
Based on actual events, when a young Vincent Van Gogh arrives in Brixton, England, he falls in love with a beautiful young woman carrying a cup of tea. Her mother has a room for rent. Vincent's journey of self discovery begins as the artist finds inspiration from his landlady, her daughter and a fellow boarder, a struggling artist who sees beauty in every day objects. This is a house full of secrets and as Van Gogh begins to see things in new ways, his destructive nature takes hold.
Production History
In This Section
Quick Links