209
th
Anniversary Season · America's Oldest · Founded 1809
Special Event · Gala Concert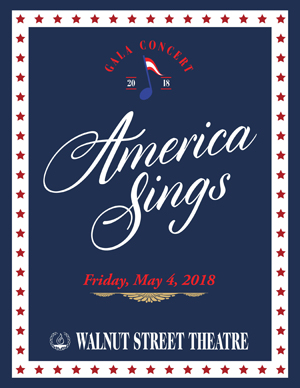 We are excited to announce our 2018 Gala Concert
America Sings!
Friday May 4, 2018 · 7 PM
The land of opportunity shines bright at our 2018 America Sings Gala Concert. Celebrate the American Dream as Philadelphia's most cherished stars sing America's musical favorites and patriotic numbers.
The evening includes the presentation of the 2018 Edwin Forrest Award to Ron Bowlan, Trustee of Walnut Street Theatre.
This celebration of iconic musical theatre supports the Walnut's Arts in Education Programs, now serving over 172,000 students and families each year. Don't miss this One Night Only event!
Tickets On Sale Now!
purchase tickets
Gala Concert Ticket
$45 and $25
Premium Concert Ticket
Premium Seating for Gala Concert
$80
VIP Ticket
The best seats in the house for the Gala Concert performance followed by admission to our exclusive VIP Party with food, drinks, and mingling with the stars of the concert. For VIP tickets and Sponsorship opportunities call Emma at 215.574.3550 ext. 509.
$300
Executive Producer