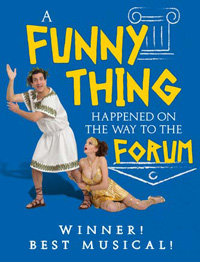 "This Broadway musical is as timeless as comedy itself!" -The New York Times
A Funny Thing Happened On The Way To The Forum
Book by Burt Shevelove and Larry Gelbart · Music and Lyrics by Stephen Sondheim
September 5 – October 22, 2017
Mainstage
Tickets: $20-$97 · Running Time: 2 hours and 25 minutes
Stephen Sondheim's classic Tony Award-winning Best Musical is fast-paced, witty, irreverent and one of the funniest Broadway shows ever written! A Funny Thing Happened On The Way To The Forum is a nonstop laugh-fest in which Pseudolus, a crafty slave, struggles to win the hand of a beautiful, but slow-witted, courtesan named Philia for his young master, Hero, in exchange for freedom. The plot twists and turns with cases of mistaken identity, slamming doors and a bevy of beautiful showgirls. This unforgettable, hysterical musical comedy will have you laughing all the way to the Forum with "something for everyone, a comedy tonight!"
Artwork Pictures: Frank Ferrante and Faith Sacher.
production facts · Playbill PDF
Production photos by Mark Gavin · Click to Enlarge
Schedule

Tickets can be purchased at the Walnut box office; by phone at 215.574.3550, 10am-10pm, 7 days a week; or online by selecting any performance time below. Tickets are also available by calling Ticketmaster at 800.982.2787. Ticket price includes a $2.50 historic facility fee.

Walnut Street Theatre is an intimate 1100-seat theatre, where no seat is further than 80 feet from the stage. It's a great place to see a show. The auditorium has great sight lines, without obstructions, and the acoustics are terrific. Come see for yourself!


September 2017
Sun
Mon
Tue
Wed
Thu
Fri
Sat
 
 
 

1

 
 

2

 
 

3

 
 

4

 
 

5

8 pm

6

8 pm *

7

8 pm

8

8 pm

9

2 pm 8 pm

10

2 pm 7 pm

11

 
 

12

8 pm

13

7 pm

14

8 pm

15

8 pm

16

2 pm 8 pm

17

2 pm * 7 pm

18

 
 

19

8 pm

20

8 pm

21

2 pm 8 pm

22

8 pm

23

8 pm

24

2 pm 7 pm

25

 
 

26

8 pm

27

8 pm

28

2 pm 8 pm

29

8 pm

30

2 pm 8 pm
October 2017
Key
4 = Open Captioned performance  


* = Free post-performance discussion following show