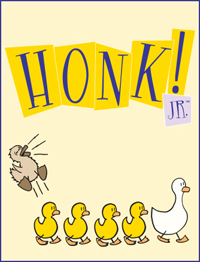 Honk! Jr.
Music by GEORGE STILES • Book and lyrics by ANTHONY DREWE
September 23 – October 8, 2017
WST for Kids
Tickets: $18-$15 · Running Time: 1 hour
purchase a new subscription

This musical adaptation of The Ugly Duckling will have kids celebrating what makes them unique! Ugly is one odd looking baby duck that doesn't quite fit in. In one wild adventure he soon learns to accept and love what makes him different.

Schedule


Tickets can be purchased at the Walnut box office; by phone at 215-574-3550, 10am-10pm, 7 days a week; or online by selecting any performance time below. Tickets are also available by calling Ticketmaster at 800-982-2787. Ticket price includes a $2.50 historic facility fee.
Walnut Street Theatre is an intimate 1100-seat theatre, where no seat is further than 80 feet from the stage. It's a great place to see a show. The auditorium has great sight lines, without obstructions, and the acoustics are terrific. Come see for yourself!
September 2017
Sun
Mon
Tue
Wed
Thu
Fri
Sat
 
 
 

1

 
 

2

 
 

3

 
 

4

 
 

5

 
 

6

 
 

7

 
 

8

 
 

9

 
 

10

 
 

11

 
 

12

 
 

13

 
 

14

 
 

15

 
 

16

 
 

17

 
 

18

 
 

19

 
 

20

 
 

21

 
 

22

 
 

23

10:30 am 1 pm 3:30 pm

24

 
 

25

 
 

26

 
 

27

 
 

28

 
 

29

 
 

30

 
 
October 2017
Sun
Mon
Tue
Wed
Thu
Fri
Sat

1

 
 

2

 
 

3

 
 

4

 
 

5

 
 

6

 
 

7

11 am

8

11 am

9

 
 

10

 
 

11

 
 

12

 
 

13

 
 

14

 
 

15

 
 

16

 
 

17

 
 

18

 
 

19

 
 

20

 
 

21

 
 

22

 
 

23

 
 

24

 
 

25

 
 

26

 
 

27

 
 

28

 
 

29

 
 

30

 
 

31