209
th
Anniversary Season · America's Oldest · Founded 1809
Production History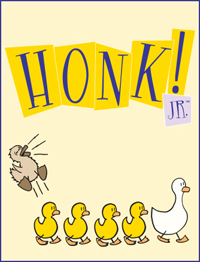 Honk! Jr.
Music by GEORGE STILES • Book and lyrics by ANTHONY DREWE
September 23 – October 8, 2017
WST for Kids Production History
Tickets: $18-$15 · Running Time: 1 hour
This musical adaptation of The Ugly Duckling will have kids celebrating what makes them unique! Ugly is one odd looking baby duck that doesn't quite fit in. In one wild adventure he soon learns to accept and love what makes him different.

Production History
In This Section
Quick Links