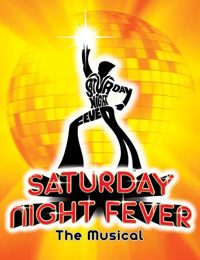 Saturday Night Fever
Based on the Paramount/RSO Film and the story by Nik Cohn • Adapted for the North American stage by Sean Cercone and David Abbinanti • Featuring songs by The Bee Gees
May 16 – July 16, 2017
Mainstage
Tickets: $20 - $95 · Running Time: 2 hours and 40 minutes
Put on your "Boogie Shoes" for Saturday Night Fever, one of the most loved dance stories of all time! The year is 1979 and in Brooklyn, New York, Tony Manero, a young man with a dead-end job and an extraordinary ability to dance, has only one ambition in life - to become the disco king. When he meets Stephanie, who also dreams of a world beyond Brooklyn, they decide to train together for a dance competition and their lives begin to change forever. Based on the 1977 film that became a cultural phenomenon, the electrifying score is packed with legendary hits from the Bee Gees including the classics: "Stayin' Alive," "Night Fever," "Jive Talking," "You Should Be Dancing" and "How Deep is Your Love?"
Please be advised that Saturday Night Fever, similar to the movie, contains adult language and situations.
Download the Study Guide:
production facts · Playbill PDF
Production Related Video
Production photos by Mark Garvin · Click to Enlarge
Schedule

Now seating subscribers!
Tickets can be purchased at the Walnut box office; by phone at 215-574-3550, 10am-10pm, 7 days a week; or online by selecting any performance time below. Tickets are also available by calling Ticketmaster at 800-982-2787. Ticket price includes a $2.50 historic facility fee.
Walnut Street Theatre is an intimate 1100-seat theatre, where no seat is further than 80 feet from the stage. It's a great place to see a show. The auditorium has great sight lines, without obstructions, and the acoustics are terrific. Come see for yourself!
A limited number of premium seats are available for each performance. Ticket price includes an $87.50 donation to Walnut Street Theatre. For more information, call 215.574.3550, ext. 1, 10am-10pm, 7 days a week; or select a performance below.
May 2017
Sun
Mon
Tue
Wed
Thu
Fri
Sat
 
 
 

1

 
 

2

 
 

3

 
 

4

 
 

5

 
 

6

 
 

7

 
 

8

 
 

9

 
 

10

 
 

11

 
 

12

 
 

13

 
 

14

 
 

15

 
 

16

8 pm

17

8 pm *

18

8 pm

19

8 pm

20

2 pm 8 pm

21

2 pm 7 pm

22

 
 

23

8 pm

24

7 pm

25

8 pm

26

8 pm

27

2 pm 8 pm

28

2 pm * 7 pm

29

 
 

30

8 pm

31

8 pm
 
 
 
June 2017
July 2017
Key
2 = ASL and Audio Described Performance  



4 = Open Captioned performance  


* = Free post-performance discussion following show