Production History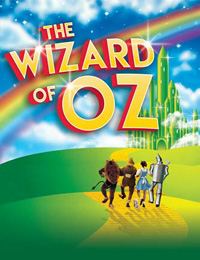 The Wizard Of Oz
By L. Frank Baum • Music and Lyrics by Harold Arlen and E.Y. Harburg • Adapted by John Kane for the Royal Shakespeare Company based upon the classic Motion Picture owned by Turner Entertainment Co. and distributed in all media by Warner Bros.
November 8, 2016 – January 8, 2017
Mainstage Production History
Tickets: $20 - $95 · Running Time: 2 hours and 15 minutes
"We're off to see…" The Wizard Of Oz with this exciting stage adaptation of the all-time classic! Click your heels together three times and join The Scarecrow, The Tinman, The Cowardly Lion, Dorothy… and Toto too, as they journey through the magical land of Oz to meet the Wizard and obtain their hearts' desires. This production contains all of the beloved Oscar-winning songs from the movie including "Somewhere Over the Rainbow" and "We're Off To See The Wizard," all the favorite characters and iconic moments, plus a few surprises along the way. Rediscover the real story of Oz in this fantastic musical treat for the whole family. The Wizard Of Oz promises to be one of the most spectacular holiday productions ever staged by the Walnut!
Download the Study Guide:
production facts · Playbill PDF
Production Related Video
Production photos by Mark Garvin · Click to Enlarge