Online Subscriber Exchanges
You Can Now Exchange Tickets Online! And Choose Your Own Seats!
We have been working hard to make exchanging your tickets even easier. Subscribers can exchange their tickets online up to 24 hours prior to their performance. Try it out today! It's easy.
Follow the step-by-step guide on how to exchange subscription tickets online below or take a look at our new video!
Just Follow These Steps
1. Log into your account with your e-mail and password.
2. Find the performance you'd like to exchange and click, "manage this event"

3. On the next screen, Click "exchange seats," Choose the seats you'd like to exchange and click "exchange" in the top right of your window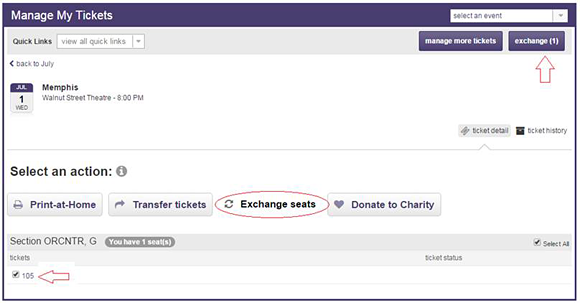 4. Next, you'll choose the new date you'd like to attend and click "continue" to go to our interactive seating map where you can choose your new seats by clicking the area of the theatre you'd like to sit in and then clicking the seat you choose.
5. After you've chosen your new seats, click "Checkout." Follow the prompts to review your exchange and enter your payment.
6. Once your transaction is complete, you can print your new tickets at home. Your old tickets are no longer valid.
For other ways to exchange your tickets view the Subscriber Handbook.
Donor Reminder
Donors contributing $500 or more receive personal concierge service and all fees are waived. Please call the Development Office at 215.574.3580 for additional information.
Please Note: There is a convenience fee of $4.00 per ticket to exchange tickets online or by phone. If you choose a more expensive seat or date, you only pay the price difference between your subscription seat and the new discount subscription seat you've chosen. Any price difference will be charged when you make your exchange. There is no refund when exchanging into a lower-priced performance, series, or seating section.
Please note: The Senior/Youth discount is not valid for any Friday or Saturday Evenings or for Sunday Matinees. Special promotional prices are valid only on your original seats and dates