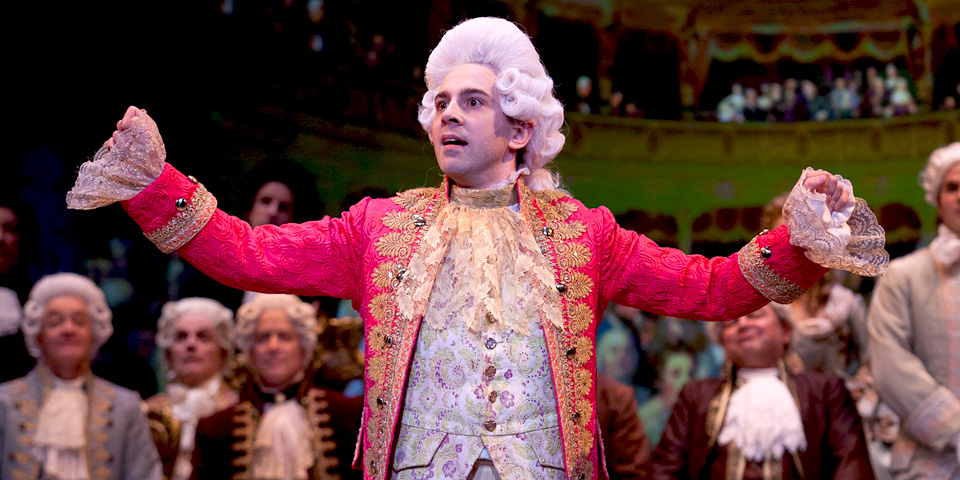 Amadeus
, (2011), Rob McClure and Ensemble
Subscriber FAQs
When will I get my tickets?
All subscription tickets for Mainstage, Studio and WST for Kids shows are mailed out mid-to-late August. Any subscriptions ordered after this time take 7-10 business days to mail out.
How do I exchange my tickets?
Subscribers can exchange their tickets, or donate their tickets back to the theatre for a tax-deductable donation, up to 24 hours prior to their performance. If it is more than 24 hours before your performance, single ticket buyers may exchange their tickets to another performance of the same show for $10 per ticket, plus any applicable upgrade fees.
Learn More:
Can I get extra tickets near my season seats?
Thank you for wanting to share Walnut Street Theatre's productions with your family and friends! Because we have over 50,000 subscribers it is not always possible to purchase additional tickets near your assigned subscription seats. However, one of the best ways to make sure you are seated with additional seats for a particular show is to exchange your subscription tickets into a performance that has larger groupings of available seats. For example, if you have two subscription seats and wish to bring two friends, ask a ticket sales representative to look for a performance that has four seats together available for sale; you can then exchange your two seats into that performance and purchase the additional two seats.
Can I get a refund if I can't make my performance?
There are no refunds for missed performances. If you will be unable to attend your scheduled performance or believe inclement weather may prevent you from attending your scheduled performance, please be sure to exchange your tickets at least 24 hours in advance (see "How do I exchange my tickets?" for more information). Your tickets are void and cannot be exchanged once your performance has occurred.
If you will be unable to use or exchange your tickets, you may return them to the theatre as a tax-deductible donation. To donate your tickets, call Subscriber Services at 215.574.3550 ext. 6 by noon of the day of your performance; on Saturday or Sunday, call 215.574.3550 ext. 1; or mail your tickets 10 days prior to your performance to:

Walnut Street Theatre
ATTN: Subscriber Services
825 Walnut Street
Philadelphia, PA 19107.
We will issue a written acknowledgement of your contribution equal to the value of your subscription ticket price.
Learn More:
What should I do if I've misplaced my tickets?
If you lose or misplace your tickets, please call Subscriber Services (10am-10pm) at 215.574.3550 ext. 6 before your performance date and we will be happy to provide replacements. Replacement tickets will be mailed to you or held at the box office.
What are the Box Office hours?
| | | |
| --- | --- | --- |
| DAY OF THE WEEK | SCHEDULE TYPE | BOX OFFICE HOURS |
| Monday | All Mondays | 10am to 6pm |
| Tuesday – Saturday | Non-Performance Dates | 10am to 6pm |
| Tuesday – Saturday | Performance Dates | 10am – Intermission |
| Sunday | Non-Performance Dates | Closed |
| Sunday | Performance Dates | 12pm to Intermission |
Please Note, the box office staff cannot sell tickets to future performances or exchange tickets during the 30 minutes prior to a performance. The box office is available for all services during intermission, EXCEPT for the final show of the season. To avoid standing in line to exchange tickets, we suggest that you visit us during non-performance hours or take advantage of our convenient mail or phone exchange services.
How early can I pick up my tickets at Will Call?
You may pick up your tickets any time that is convenient for you during box office hours. The box office is open Monday–Saturday beginning at 10am, and on Sunday show days beginning at 12pm. To avoid waiting in line, we suggest you pick up your tickets at least one hour prior to your performance.
Learn More:
How do I change my address or email address?
You can update your information by contacting the Subscriber Services office at 215.574.3550 ext. 6, (10am-10pm) or by e-mailing info@walnutstreettheatre.org, 24 hours a day. You can also use your subscriber account number and password to access your subscription account online.
Learn More:
Learn More!
Learn more about the theatre by visiting the Theatre FAQ's page.